Do you feel overwhelmed by your Birth to Three paperwork?
We have a solution.
Streamline your Birth to Three operations.
No more paper forms – a modern time saving system including signatures, email and text messages.
Support documents and client copies can be emailed with a click.
Form submissions are now all digital – no more looking for missing reports.
Huge time savings - forms are automatically filled out.
No more dropped or missed appointments. The system automatically sends emails and text messages in advance of service appointments – clients will always know appointments are scheduled and are coming up.
Harc is using this system and here is what they are saying about it…
"We are thrilled to announce that Harc, Inc.'s Steppingstones Birth to Three programs are making a big leap towards digitization by partnering with Protected Harbor, a leading provider of secure, cloud-based solutions for the healthcare industry. Our program is currently developing and transitioning to a fully customized electronic platform that will streamline their services and improve the overall experience for our families.
We believe that this will bring great efficiency benefits for our families, clinical, and administrative team! It will provide a more streamlined and efficient way to manage important information and communications related to early childhood education and intervention services. This transition will allow us to provide even better support and care to the children and families we serve."
Some key features of the new platform include:
Digitized forms with pre-population of common items for rapid data entry

Electronic signature capability

Appointment scheduling with auto email and text reminders
Compliance tracking
Storage management, protection, and support.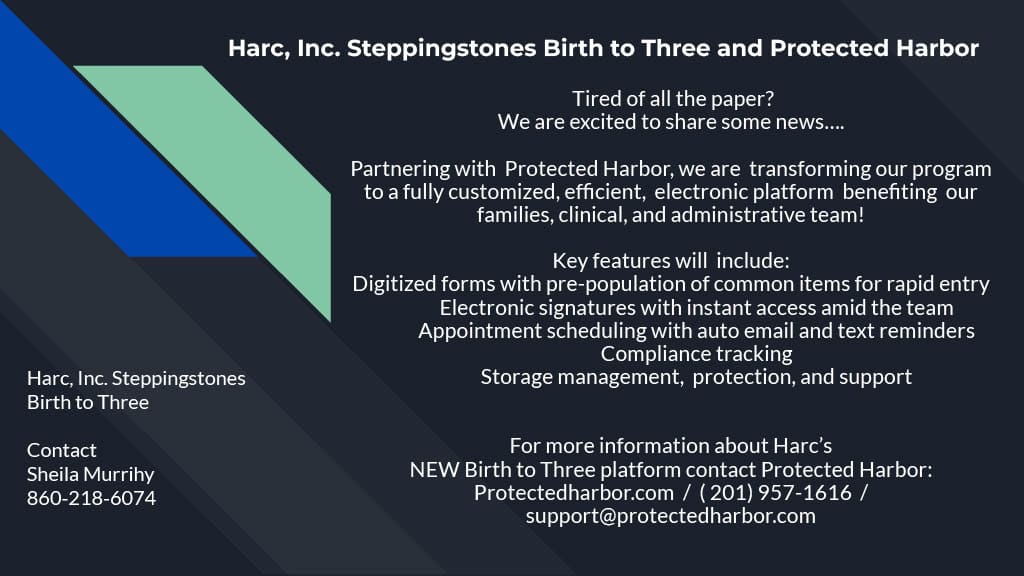 As we progress with this initiative, we are confident that this partnership will bring valuable expertise and guidance to ensure a successful transition to this new platform. We look forward to the continued growth and success of the Harc, Inc. Steppingstones Birth to Three programs with the support of Protected Harbor.