FULLY ACCOUNTABLE IT SERVICES FOR THE LEGAL INDUSTRY.
Protected Harbor guarantees your legal team 15-minute ticket response times, a 24/7/365 live help desk, and a stable, efficient, and secure infrastructure for your most important data.
We keep you and your clients safe and secure
Guaranteed 15 minute ticket response

24/7/365 live help desk
Named Best IT Company in 2022
CEO Richard Luna will be speaking at Legalweek, Thursday March 23rd 11AM at the Sutton Center.
The New Era of Cybersecurity: New Threats & How to Stop Them
Please watch this short video to learn what he will be discussing.
Marcela Hoyos – (201) 957-1637
We have a limited supply of free tickets so call today.
Call Us Today (201) 957-1616 and Receive a Free, No Obligation IT Audit.
Guiding Legal Technology Every Step of the Way
Protected Harbor has been providing IT services within the legal sector for over 14 years and we are excited to continue this process for many years to come. Our expert engineers work both day and night to ensure that your company's infrastructure is safe from cybercriminals. We understand how important data security is, especially within the legal field which is why we are proud to provide our clients with fully accountable IT services.
The Protected Harbor Advantage:
Ransomware Protection
Phone Calls Answered in Under 1-Minute
95.5% of On-Site Issues Resolved Within the First Visit
24/7/365 Monitoring
Web Hosting
Network Management
Server Management
15-Minute Response Ticket Times
24/7/365 Live Help Desk Support
Fully Managed IT Services
& Much More
A Dedicated IT Team for Your Legal Firm
Cybercriminals are everywhere and their means of attacking are only becoming more sophisticated by the second. Take matters into your own hands by bringing on an IT team you can trust. Our experienced staff is constantly monitoring your network making sure to keep the bad guys out.
We understand the importance of keeping client data safe, especially when it comes to the legal industry. That is why we provide customized security and compliance solutions ensuring that your systems are protected from malware, ransomware, and other cyber threats. Our engineers make your security system impenetrable while they continue to scan for any bad actors looking to cause harm.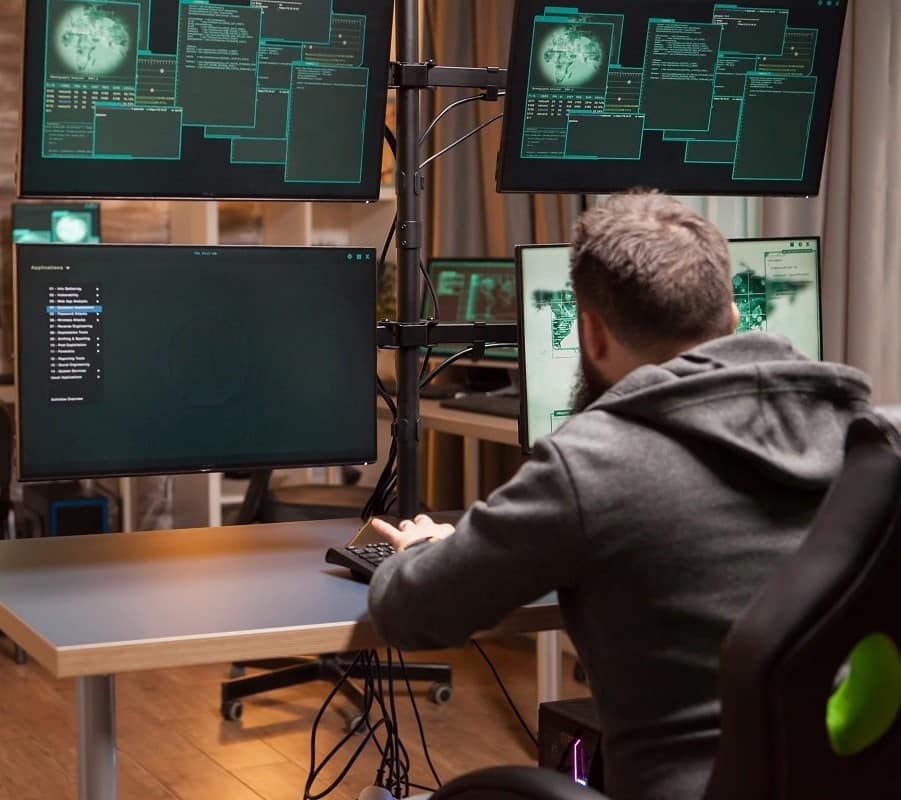 PROTECTED HARBOR IT SERVICES FOR LEGAL TECH:
On Site Support
Our experienced technicians will come to your premises and provide you with the help and support you need.
Technology Audit
A technology audit ensures that your business always takes full advantage of the newest technologies available.
Compliance
A compliance management solution that helps organizations reduce their risk exposure and ensure compliance.
Ransomware Protection
Continuously monitors for threats and immediately safeguards your company's data from costly ransomware attacks.
Email Security
Real-time protection against unwanted emails, ensuring that your inbox is free from malicious content.
Scalable Infrastructure
You can rest assured that your data is secure, reliable, and highly available, no matter the size of the business.
Cloud Services
We make moving to the cloud easy so businesses can benefit from all the advantages cloud migration offers.
Data Protection
Reliable data protection services ensure that your data is safe, secure, and recoverable in an emergency.
Industry Expert Business Optimization
Customized Solutions for Your Legal Team
When you collaborate with our team, we'll be applying our years of knowledge to help you get the most out of your technology. We tailor all our technology solutions to best suit what your firm needs because we understand that technology is not a one size fits all solution.
Ransomware is on the Rise, Are You Protected?
Ransomware is increasing in many industries, and the legal field is no exception. The private data your firm holds is seen as a goldmine to these hackers, which is why they're trying to find a way in. Getting infected with ransomware is a lot easier than it used to be. Now, an infection can easily spread just by opening up an email as a hidden piece of microcode can be easily hidden within a photo or link and by clicking the email, you've just innocently granted the hacker a way into your company's infrastructure.
Protected Harbor provides you with a team of cyber heroes that can stop these hackers before they even have the chance to attack. With our 24/7/365 monitoring and 15-minute response ticket times, your data and security are in safe and comparable hands.
Stay Ahead of the Attack with Protected Harbor
Our team is always happy to supply your firm with what you need when you need it most. Prior to any recommendations our team may give you, we like to provide a free IT audit first, this way we know what's working and what needs improvements. Don't wait until it's too late to get secure your client's data, get the protection you would want for your own personal data, and find out more about Protected Harbor.
UNMATCHED LEGAL IT SUPPORT
We provide your legal practice with cost-effective, suitable solutions and ongoing IT support to meet your technology needs. Protected Harbor will keep your network running smoothly, providing you with peace of mind for the future of your firm.
WHEN YOU NEED A CYBERHERO, CALL PROTECTED HARBOR.
Call Us Today (201) 957-1616 and Receive a Free, No Obligation IT Audit.