IT SERVICES FOR ARCHITECTURE, ENGINEERING, & CONSTRUCTION COMPANIES
Protected Harbor offers the most up-to-date interconnected tools, mobile device management, and multi-location support, guaranteeing that your team can function efficiently from anywhere.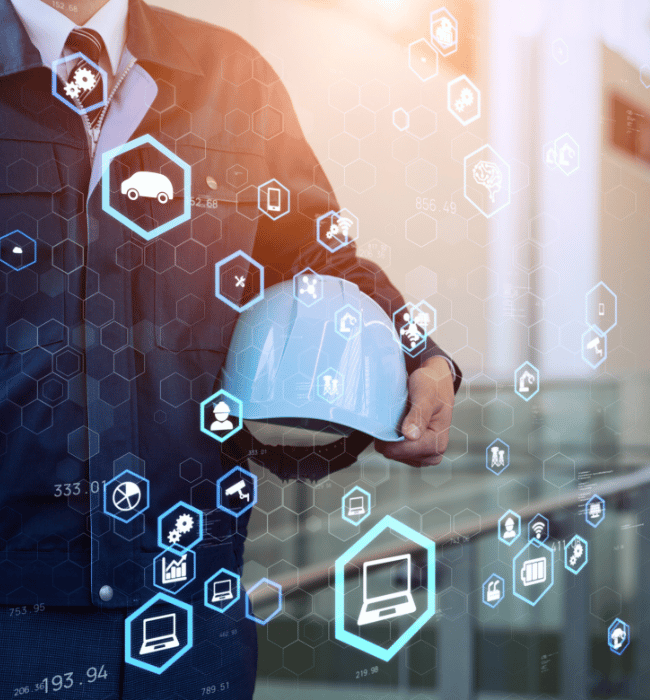 INTERGRATED TECH SUPPORT FOR GROWING A.E.C COMPANIES
Advanced technology and connectivity are pushing the evolution and growth of the Architecture, Engineering, & Construction (AEC) industries. The Internet of Things (IoT), Cloud Computing, and Building Information Modeling (BIM) are some of the few technologies leading this digital transformation and improving timelines, collaboration, and productivity. You need a robust IT infrastructure to support and secure it all.
Protected Harbor IT solutions for construction and engineering companies can support peak technology performance, scale storage volume for big data, and safeguard your information from data loss or cyberattack. System maintenance, network security, cloud computing, disaster recovery, and more IT services support architects, engineering firms, and construction companies to increase uptime, improve productivity, and ensure business continuity.
Innovative Modern Technology Solutions for Construction Firms
24/7/365 Helpdesk Support
Enhanced Security
Sage, JD Edwards, Quickbooks & Autocad Programs
ERP Management Software
Configuration & Support of Portable Applications
Quality Control Software
Cloud Solutions To Support Remote Job Duties
Remote System Monitoring
Mobile Device Management (MDM)
PROTECTED HARBOR'S IT SERVICES FOR CONSTRUCTION
Device Security & Management
PROTECTED HARBOR'S REPUTATION IN THE AEC INDUSTRY
CYBERSECURITY FOR ENGINEERS & ARCHITECTS
No industry is immune to privacy and cybersecurity risks, and the construction and engineering industries are no exception. Architecture, Engineering, and Construction firms deal with sensitive financial and personal information.
Construction data is quite possibly the most valuable asset for a business in the AEC industry. IoT, augmented reality, and BIM technologies generate big data, which the limited flexibility of on-premises infrastructures cannot handle. Protected Harbor's private cloud safely scales, stores, and manages vast volumes of data with the latest encryption and security software.
Vulnerability Scans
24/7/365 System Monitoring
File Encryption
Endpoint Protection
Data Backup & Disaster Recovery
Business Continuity
MAKE YOUR MOVE TO THE CLOUD EASY & SECURE
Collaborative project teams can also access the same data and files in real time from anywhere, whether in the office or on a project site. Protect your AEC company with the on-demand scalability of cloud computing and a robust IT infrastructure to support physical workstations and run sophisticated CAD/CAM software tools. System downtime could lead to loss of data and delayed project timelines. An MSP provides proactive IT support and maintenance to ensure the health of IT systems and increase uptime.
With our own high-security Tier 3 data centers to store your information, our 24/7 live Network Operations Center monitors your cloud infrastructure and each of your locations to ensure constant vigilance. Inclement weather and natural disasters may delay your project, but Protected Harbor's 24/7/365 cloud service support will always be on time.
WORK ACROSS ALL YOUR JOB SITES
Get up to date with new construction technology equipped with IT assistance that makes it easier to communicate with all your team members; from project managers to work crews, across all job locations.
For a free consultation, contact us today!