MANAGED SECURITY SERVICE PROVIDER (MSSP)
Advanced IT Security Services to Protect Your Business
At Protected Harbor, we understand just how complex security is for companies. From the mix of staff to clients, processes, and technology, all offering potential weak spots and security risks. C

yber threats, viruses, and Trojan horses continue growing in quantity and severity. This is why we provide 24-hour on-demand vulnerability management and security monitoring to help you work with confidence at all times.
As your managed security service provider mssps specialists, we take security issues out of your hands and handle them with the experience and knowledge that comes from years of safeguarding companies just like yours. We specialize in highly regulated environments utilizing controls such as HIPAA, GDPR, CIS, and NIST.
MANAGED CYBER SECURITY & COMPLIANCE
Leaders in Cloud & Cyber Security
With managed security services, your staff will be trained and empowered, while your technology is kept airtight, leaving the administration, planning, and processing to the experts—us.
ZERO TRUST
Protect business-critical data and applications in a security-rich infrastructure built with a zero-trust framework and strict access authentication.
COMPLIANCE & RISK MANAGEMENT
Simplify complex and ever-changing regulations with process documentation, vulnerability remediation, and recovery planning.
EMAIL FILTERING & SECURITY
It acts as a block for both unwanted and potentially malicious codes or links that redirect the user to suspected domains.
ENDPOINT PROTECTION
Prevent file-based malware, detect/block malicious activity, and gain the capabilities needed to respond to security incidents and alerts - for every entry point & every end-user device.
NETWORK SECURITY
Thoroughly analyze your network, secure it against vulnerabilities, plus utilize AI and live monitoring to maintain superior security across your network.
PENETRATION TESTING
Simulated cyber attacks against your network and systems help to expose vulnerabilities and strengthen your defenses.
MOBILE DEVICE SECURITY
We secure employee mobile devices through strategic security solutions that allow them to access applications anytime, from any device, without compromising security.
SIEM SOLUTIONS
Analyzing and correlating events from a plethora of security tools using advanced AI algorithms; then displaying this data in an easily-understood dashboard.
MANAGED SOC
Aggregate all security event data in one place. Utilize SecOps team experience and powerful AI to cover your security bases with a managed Security Operations Center (SOC).
REAL-LIFE & HANDS-ON RESULTS
Ensuring Security is a Multi-Faceted Approach, Involving Every Staff Member and Every Piece of Technology You Employ.
Malicious Connection Attempts Blocked Each Day
Malicious Connection Attempts Blocked Each Day
Network Flow Records Inspected Per Day
Network Flow Records Inspected Per Day
Downloaded Malware Caught & Eliminated with Zero Incidents Last Year
Downloaded Malware Caught & Eliminated with Zero Incidents Last Year
Workflow Events Logged Everyday
Workflow Events Logged Everyday
Prepare Against Complex Cyberattacks in Today's Digital World
Cyberattacks can have a devastating impact on businesses. The loss of employee productivity and staying up all night dealing with a downed server will hurt your business. But data loss of sensitive customer or proprietary information can cost you your reputation.
A strong network security program requires a deep understanding of the threats facing your business, as well as the skills and tools necessary to combat those threats.
Our AI-gathered cybersecurity services intelligence, threat prevention and analysis helps us to identify and stop security threats before they happen. Our security team has the most up-to-date information on new malware, phishing techniques, ransomware, and attack vectors that hackers are using to steal data. These insights are translated into vigilant cybersecurity defenses for our clients.
END-TO-END SECURITY COVERAGE
Our Protected Multi-Layer Approach to Cybersecurity Stops Reputational Damage
Vulnerabilities are addressed through a multi-tiered approach with solutions like vulnerability scanning that encompass your entire network infrastructure. There's no such thing as a one-size-fits-all cybersecurity or network security. Each company is uniquely vulnerable, so every solution is thoughtfuly currated and customized, starting with a thorough risk & vulnerability assessment.
We prioritize layered cybersecurity protection, beginning with a sturdy network perimeter composed of a firewall, a network management system, and regular network inspections. We then include proactive monitoring of your systems, including anti-virus and anti-malware software, DNS filtering, and anti-spam protection. Most importantly, we recommend investing in cyber training for your staff—your employees are the first and finest line of cyber defense.
A Managed Security Services Provider for New York, New Jersey, & Connecticut Businesses
Information Security Management That Proactively Protect Against Today's Complex Security Threats
Get a Free Cybersecurity Audit
Understand your security threat exposure with a free cybersecurity risk assessment. Great actionable steps you can take to gain a strategic upper hand. We offer risk assessment services specifically designed for companies operating under HIPAA, PCI DSS, Sarbanes Oxley, or DFARs regulations.
PROTECTED NETWORK SECURITY
When You Join The Protected, You Get An Army
When you put Protected Harbor in charge of your information security, we go on the offensive with an arsenal of industry-leading tools backed up by a security operations team who knows their stuff. Our dedicated threat hunters make it their mission to gain a firm grip over the ever-changing arena of information security and stop threats before they start. When you join The Protected, you'll finally experience security and peace of mind.
Protected Harbor's Security Operations Center team is staffed with certified cloud computing, security techs, and threat hunters from around the globe, operating 24/7/365 as an optional part of your cybersecurity defenses. We are continuously monitoring, detecting, and remediating threats to keep your data protected as part of our elite service plans.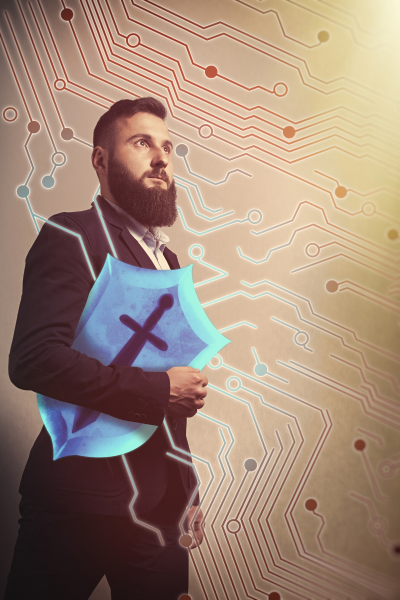 How AI-Powered Cybersecurity Blocks Malicious Attacks
Protected Harbor continuously collects flow data to aggregate, analyze, and visualize network details for real-time viewing or historical archiving.
Our threat protection dashboard gives our proactive monitoring team a view of possible threats contacting or attempting to contact the network, including public threats based on IP reputation, high-risk internal clients based on flow count, visual hot spots of inbound connections, top block ports, and recently blocked traffic.
Who's doing the most traffic? Are we being flooded? What types of traffic are using the most bandwidth? These questions and more are answered by filtering for results on the Top Talkers Dashboard. We can even drill down further onto flow details to find specific traffic streams to analyze from an individual protocol or address.
With Protected Harbor compromised credentials, unmitigated vulnerabilities, and network intruders are no longer a threat to critical data. We use AI to build a database of bad actors and a variety of monitoring and blocking methods to provide protection for internal networks at various common attack vectors. 
Protect Your Business From Cyber Threats
ALWAYS SECURE. ALWAYS STABLE. ALWAYS PROTECTED.